Home / Talk & Experience Sharing on Migrant Workers
Talk & Experience Sharing on Migrant Workers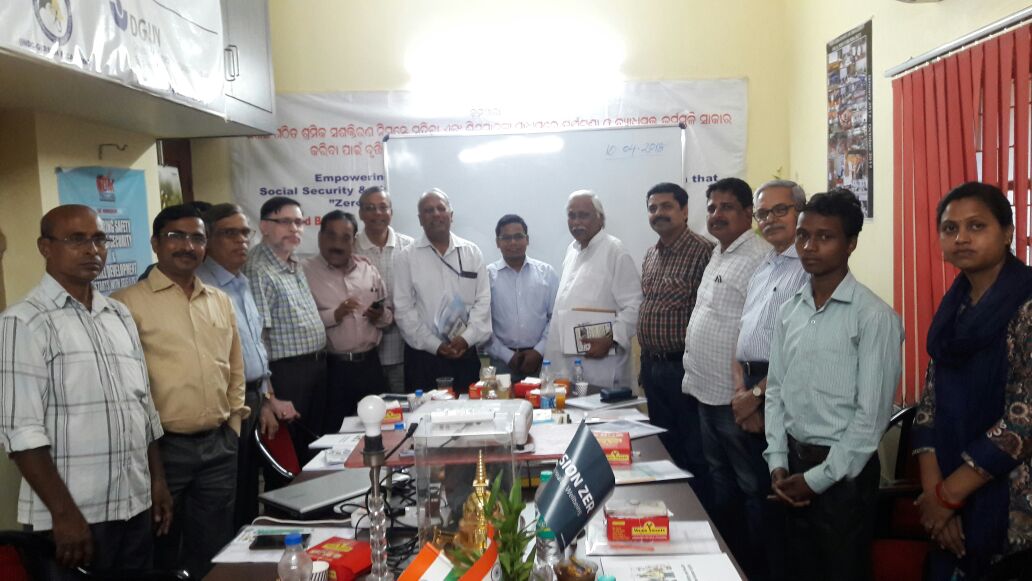 Minutes on Program
 A Talk and Experience Sharing on Migrant Workers
Date-10.04.2018 Place-Indo- German Focal Point for India, Bhubaneswar
List of Participants:
1. Mr. Panchanan Kanungo (Former FM, Odisha & Social Activist)
2. Mr. Ashok Sahu (Former Economic Advisor to Ministry of Labour & Secretary, NHRC)
3. Mr. Madan Mohan Dhal(Vice-President INTUC, Odisha)
4. Mr. Ranjan Sahu(Secretary, BMS Odisha)
5. Mr. Malaya Pradhan (Senior Deputy Director, Director of Factories, Odisha)
6. Er. N.K panda(Assistant Director, Director of Factories, Odisha)
7. Mr. Ashok Prasad Mishra (SSAI, Odisha))
8. Mr. Ramashish Pati (SSAI, Odisha)
9. Col. (Retd) S.C Mohanty(Health Consultant)
10. Mr. Ashok Panda(Advisor)
11. Mr. Dibakar Sah00 (MD, KDC Technologies)
12. Mr. B.K Sahu (Coordinator, Indo-German Focal Point for India)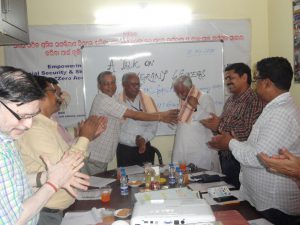 The Session was chaired by Mr. Kanungo. After exchange of introductory formalities and Introduction of participants, Mr. Sahu of Focal Point brought out the objectives of the program—Since Sri Ashok Sahu was in
Bhubaneswar, He kindly consented to make a presentation on "Migration2" and the future activities of Focal
Point particularly the Safety Song Video Competition (SSVC 2019) with a small introduction of its objective etc.
Mr. Ashok Sahu made a power point presentation on Migration with salient points as below:
1. The types of labour are Child Labor, Migrant Labor, Bondage Labor and Trafficking Labor.
2. He emphasized most importantly on the topic of Bondage Labor.
3. Bondage means loss of freedom to take rational decision. The markets are getting inter-locked in case of
bondage labour.
4. Poverty, especially indebtedness, has led to the degenerated system of bondage.
5. Under neo-bondage a short-term loan at higher is taken, failure to repay which creates a vicious circle of
debt and bondage.
6. Cause of Neo Bondage is distress migration. Distress-migration is poverty induced.
7. The real problems of female migrants or left-behind female who take care of their homes should be
considered and they should get different kind of facilities from Govt.
8. Identification and registration of migrant workers should be done in a proper way for their improvements.
There after Mr. Sahu made a presentation on Migration- issues, Challenges and Solutions as presented in
International Conference on Migration at CDS, Kerala.
The concluding session was open session which was participated by all participants particularly impressed by the
presentations, narrations and importantly on Traditional and Neo Bondage Migrants involving presentation of
Mr. Ashok Sahu. Mr.Panchanan Kanungo in his concluding remark appreciated the presentations and wanted
that these may be circulated to all participants for more awareness etc.
The Vote of Thanks was offered by Mr. Dibakar Sahoo (MD KDC Technologies) and ended with refreshment with Resolve to continue such
awareness program in future. Indo-German Focal Point Momento was presented to Mr. Kanungo and Mr. Ashok
Sahu.